Overview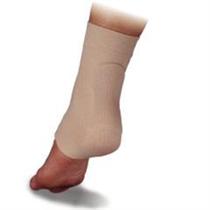 The Achilles tendon attaches the calf muscle to the heel bone. Achilles tendonitis is a repetitive strain (overuse) injury involving lower leg muscles and tendons at the point where they attach to the bone, resulting in pain at the back of the ankle. Chronic overuse can lead to small tears within the tendon causing long-term weakening, making the tendon susceptible to rupture, which could result in a need for surgery.
Causes
Excessive exercise is a common cause of Achilles tendonitis. This is particularly true for athletes. However, factors unrelated to exercise may also contribute to risk. Rheumatoid arthritis and infection are both correlated with tendonitis. In general, any repeated activity that strains the Achilles tendon can contribute to this problem. Here are a few possible causes, jumping into an exercise routine without a proper warm-up, straining calf muscles during repeated exercise or physical activity, playing sports such as tennis that require quick stops and changes of direction, wearing old or ill-fitting shoes, wearing high heels every day.
Symptoms
Recurring localized pain, sometimes severe, along the tendon during or a few hours after running. Morning tenderness about an inch and a half above the point where the Achilles tendon is attached to the heel bone. Sluggishness in your leg. Mild or severe swelling. Stiffness that generally diminishes as the tendon warms up with use.
Diagnosis
When diagnosing Achilles tendinitis, a doctor will ask the patient a few questions about their symptoms and then perform a physical examination. To perform a physical exam on the Achilles tendon, the doctor will lightly touch around the back of the ankle and tendon to locate the source of the pain or inflammation. They will also test the foot and ankle to see if their range of motion and flexibility has been impaired. The doctor might also order an imaging test to be done on the tendon. This will aid in the elimination of other possible causes of pain and swelling, and may help the doctor assess the level of damage (if any) that has been done to the tendon. Types of imaging tests that could be used for diagnosing Achilles tendinitis are MRI (Magnetic resonance imaging), X-ray, Ultrasound.
Nonsurgical Treatment
Make sure that the tendon is not torn through and through. If it is severed, you must see a doctor immediately so that the tendon can be repaired. Severe injuries can sever a tendon, without a skin laceration being present. Testing involves moving the toes and foot to see if the tendon moves. If the tendon does not appear to move, it may be severed (comparing the injured tendon and its movement to the same tendon on the uninjured foot may help). Very sharp pain, a sudden pop, or an obvious gap in the structure of the tendon are all signs of a rupture, and should be seen by a doctor as soon as possible. If there is extreme swelling of the leg, and pain (out of proportion to the amount of trauma received), you may have sustained a vascular injury. A doctor must see this type of injury immediately. If you are not sure, see a doctor. If you have multiple injured areas see a doctor immediately, in order to prevent excessive swelling and pain. If the above exam is negative, then you may proceed with self-treatment. (However, if you are not sure of the extent of your injury, you should consult your doctor immediately). The sooner you begin to treat your injury by following "R.I.C.E.", the better you will feel. Rest is very important. Take off your shoe, get off your feet, and relax. Ice should be applied as soon as possible. Never apply ice directly on the injured area, as the cold may make the pain worse. Ice should be applied close to the injured site, between the heart and the injury, so that as the blood flows under the ice, it will be cooled. This cool blood flowing into the injured area will help to reduce the swelling and pain. Apply the ice, wrapped in a cloth or over an elastic bandage, to the foot for 15 minutes, every 1-2 hours, for up to 3 days after an injury. If the ice is uncomfortable, or causes increased pain, do not continue to use it, and see a doctor. If you have poor circulation do not use ice, as this may cause a serious problem. c. Compression is used to limit swelling, and to give support to the injured area. Compression should be applied to the entire foot, starting first at the toes and working back to the ankle. If it is applied just to the injured area, increased swelling will occur in front and behind the wrapping. Compression should be applied with a 3-inch elastic bandage, beginning around the base of all the toes, and then going around the foot and ankle. Continue over the calf muscle when possible. Compression reduces motion in the injured area and foot, and this decreases the pain, and allows for quicker healing. The bandage should not be so tight that it causes increased pain or throbbing in the toes or foot. It should be comfortable! Do not remove the elastic bandage for the first 12 hours, unless it becomes too tight, or the pain increases, or the toes become pale, blue, or cool. If any of these things happen, immediately remove all bandages, and leave them off for several hours. The normal color and temperature of the toes should return immediately. If not, see a doctor immediately! Continue until the swelling and pain subsides; it could take from several days to several weeks. d. Elevation of the leg will aid in reducing swelling and pain. Blood rushes to an injured area to bring increased blood cells, that aid in healing. Gravity will also force blood to the injured area. Too many cells and too much fluid will apply pressure to the injured nerves and tissues, and cause increased pain and delayed healing. Keep your foot elevated so that it is at least parallel to the ground, or higher if it is comfortable. Do this for at least 48 hours, or until the throbbing subsides, when you lower the leg.
Surgical Treatment
For paratenonitis, a technique called brisement is an option. Local anesthetic is injected into the space between the tendon and its surrounding sheath to break up scar tissue. This can be beneficial in earlier stages of the problem 30 to 50 percent of the time, but may need to be repeated two to three times. Surgery consists of cutting out the surrounding thickened and scarred sheath. The tendon itself is also explored and any split tears within the tendon are repaired. Motion is started almost immediately to prevent repeat scarring of the tendon to the sheath and overlying soft tissue, and weight-bearing should follow as soon as pain and swelling permit, usually less than one to two weeks. Return to competitive activity takes three to six months. Since tendinosis involves changes in the substance of the tendon, brisement is of no benefit. Surgery consists of cutting out scar tissue and calcification deposits within the tendon. Abnormal tissue is excised until tissue with normal appearance appears. The tendon is then repaired with suture. In older patients or when more than 50 percent of the tendon is removed, one of the other tendons at the back of the ankle is transferred to the heel bone to assist the Achilles tendon with strength as well as provide better blood supply to this area.
Prevention
To lower your risk of Achilles tendonitis, stretch your calf muscles. Stretching at the beginning of each day will improve your agility and make you less prone to injury. You should also try to stretch both before and after workouts. To stretch your Achilles, stand with a straight leg, and lean forward as you keep your heel on the ground. If this is painful, be sure to check with a doctor. It is always a good idea to talk to your doctor before starting a new exercise routine. Whenever you begin a new fitness regimen, it is a good idea to set incremental goals. Gradually intensifying your physical activity is less likely to cause injury. Limiting sudden movements that jolt the heels and calves also helps to reduce the risk of Achilles tendonitis. Try combining both high- and low-impact exercises in your workouts to reduce stress on the tendon. For example, playing basketball can be combined with swimming. It doesn?t matter if you?re walking, running, or just hanging out. To decrease pressure on your calves and Achilles tendon, it?s important to always wear the right shoes. That means choosing shoes with proper cushioning and arch support. If you?ve worn a pair of shoes for a long time, consider replacing them or using arch supports. Some women feel pain in the Achilles tendon when switching from high heels to flats. Daily wearing of high heels can both tighten and shorten the Achilles tendon. Wearing flats causes additional bending in the foot. This can be painful for the high-heel wearer who is not accustomed to the resulting flexion. One effective strategy is to reduce the heel size of shoes gradually. This allows the tendon to slowly stretch and increase its range of motion.